Welcome to Gosford RSL's Fishing Club's Website.
We hope that the website provides you with some useful information about our fishing club and about fishing on the Central Coast of NSW. Gosford RSL's parent club is the Gosford RSL which is located in West Gosford, close to Brisbane Waters and not too distant from the Hawkesbury River, Tuggerah Lakes and many beautiful Central Coast beaches including Terrigal, Avoca, Forrester's and Umina. Fishing the Central Coast takes you to many beautiful places, from the quiet reaches of some of our rivers, estuaries and streams through to the wider open oceans north of Sydney. Becoming a member of the Gosford RSL fishing club makes you much better placed to take advantage of the fishing that is on offer. The fun and experience group of members have a common passion for fishing and are ready to share their knowledge with you. Regular fishing competitions and organised meetings such as fishing excursions to Port Stevens and Bass Lodge (on the Macleay River) are held throughout the year making for plenty of opportunity for everyone to have fun, catch fish, talk strategies and enjoy each others company.

Gosford RSL FC values new members to the club. Our club has been established for many long years and we seek to keep it vibrant and strong well into the future. Being associated with Gosford RSL makes for a strong club and our facilities are fantastic. Come and spend a Thursday evening at the club to find out more about our club and its people. These evenings are the best opportunity for new members to find out more about our club, our club boat and about fishing generally on the Central Coast. Perhaps you may even like to join up. Who knows what new friendships you may make, fish you might catch and new opportunities you might pursue."
Last weekends Gosfrord took on the Grange in the Biannual competition and soundly beat them 2,357 points to 1,636 with some excellent scoring from a number of the RSL lads.
Top fisho on the day was Jason Tait (surprise surprise) with an excellent 456.25 points.
An honourable mention goes to Adam Russon who braved the rough conditions to go offshore and return with 2 Dolphin fish, the largest being 13.7KG
Mens
1st Jason Tait (456.25 points),
Ladies
1st Monique Leon (50.2Points)
Sub-Junior
1st Steven Rennie (19.6 points)
Team Scores on the day
Gosford RSL 1672 points, Ocean Beach hotel 1223 points,
Woy Woy Bowlo 320 points, Woy Woy Leagues 67 points
Newsflash - The Fishing Club's AGM is to be held at the Gosford RSL commencing at 10:30am Sunday 18th March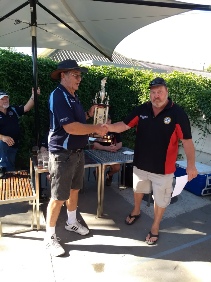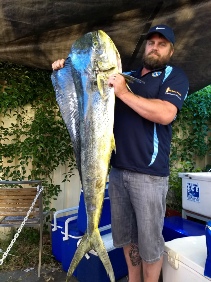 Fish of the day went to Adam Russon who braved the rough weather to head offshore for this superb 13.7Kg Dolphin fish